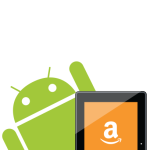 Amazon's phone, tablets, and other Fire devices run Android, but it doesn't come in the form you see on most devices. They all run a variant called Fire OS. The current version is based on Android 4.4, though this doesn't matter all that much once you take into account the sheer volume of changes Amazon makes.
Nevertheless, Fire OS 5 is on its way, and it will run Android Lollipop.
Amazon Releases Fire OS 5 Developer Preview Based On Android Lollipop, Official Launch Slated For Later This Year was written by the awesome team at Android Police.