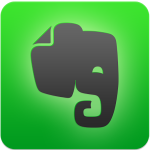 Evernote has been nibbling around the edges of material design for a while now, but the 7.0 update is a big one. The app is adopting many aspects of material design and adding a few new features too.
Here's the changelog for Evernote v7.0.
Visual refresh supporting Google's Material Design principles, including a flatter look, bolder colors, and improved typography
Customizable quick notes

Long press to add or remove quick note options

Revamped navigation

Simpler navigation drawer with direct access to shortcuts

Improved note editor and note view

Cleaner layout and controls

Editable tags

Support for renaming and deleting tags

Numerous bug fixes and enhancements
As for the material UI, Evernote got it mostly right, I think.
Evernote Updated To v7.0 With A Material Overhaul, Customizable Quick Notes, And More was written by the awesome team at Android Police.