They say that laughter is the best medicine, especially in this day and age when things can get pretty tense. You can find some top quality jokes fairly quickly, and the easiest source these days is still social media. You just find the profiles you think are funny and follow them on Facebook and Twitter. However, if you're willing to leave the confines of those services, these are the best funny apps to get your giggle on.
---
[Price: Free / $ 2.99]
9gag has been one of the most popular funny apps for a very long time. It's a general comedy site with a community of people that post about 20,000 things per day (according to the developers). It's most image-related comedy and you'll be able to browse the content by various categories. The interface is easy enough to use so nobody should have problems getting around. You can also quickly share to other communities and social media sites if needed. It's also free to use as long as you don't mind advertising.

Download now on Google Play!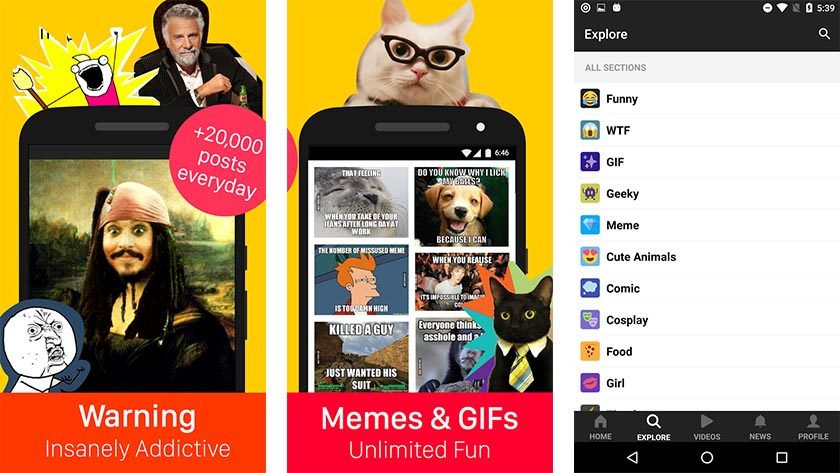 ---
[Price: Free]
Vine has a reputation for producing some seriously funny stuff on occasion. Best Vines aims to collect that seriously funny stuff and make it easily accessible to all of us. Thankfully, it does a pretty good job. You'll be able to browser various channels and feeds to find some goofy videos and most of the content is short enough to fit inside of a coffee or bathroom break. They designed the app to be like the main Vine app which makes navigation easy for fans of the social network. It's one of the better funny apps.

Download now on Google Play!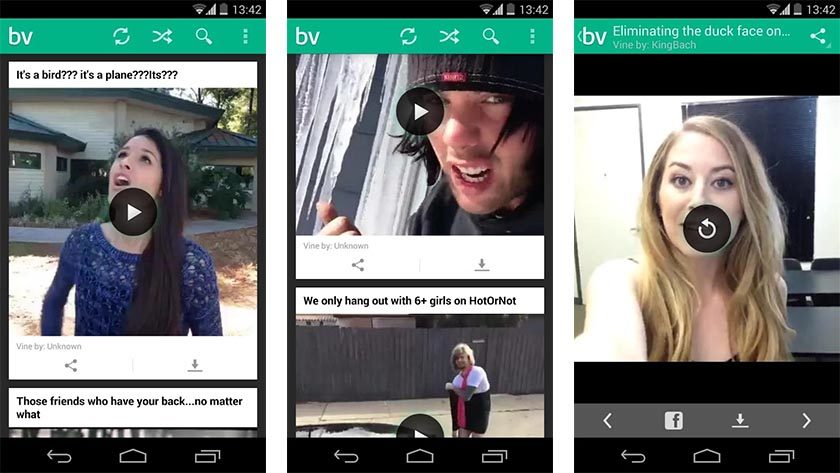 ---
[Price: $ 0.99]
Cyanide and Happiness is one of the most popular comic strips on the Internet. They're known for their dark humor, odd puns, and fun word play. The official app gives you access to over 1800 comics which can be viewed, searched, and shared as you see fit. There is also a feature that lets you shake your device to get a random comic and you can save your favorites if you'd like. It's a paid app with no free version so you'll need to make sure to test it during the refund time. Aside from that, it's a great way to get some laughs.

Download now on Google Play!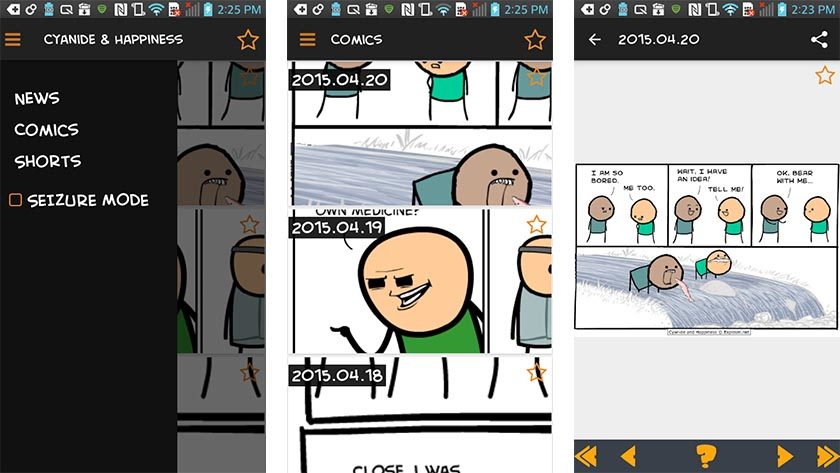 ---
[Price: Free]
Funny or Die is another one of those funny apps that aims at providing general humor. It's mostly a video platform where you watch videos that are trending or have trended in the past. Each one will have a "funny" or "die" button so you can rate it. The ones with the highest ratings are the ones most often recommended to people. It features a ton of celebrity stuff, including Zach Galifianakis' Between Two Ferns skits. There is a ton of content to watch and most of it is short enough to enjoy during breaks at work.

Download now on Google Play!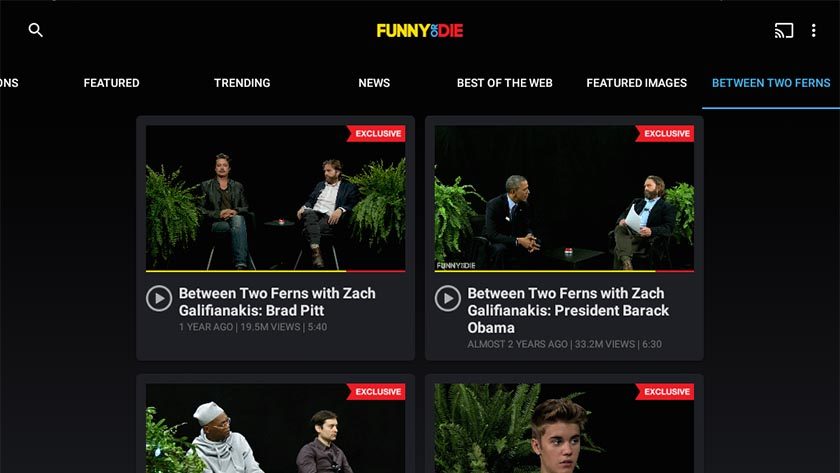 ---
[Price: Free]
Imgur made its name by being the place where people upload their stuff to post on other sites. It's the go-to upload space for Reddit users and other sites have adopted a "host it on Imgur" policy as well. Those using the official app will have access to tons of images and gifs of all kinds and many of them are pretty hilarious. The interface allows you to swipe quickly through posts so you can view a lot of them quickly and everything is easily shared on social media. It's a great resource for a few chuckles and it's completely free.

Download now on Google Play!
---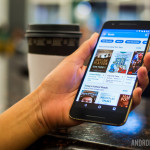 See also:

The best free Android apps, ever!
---
[Price: Free]
The official Reddit app is a really good way to surf through the site and find some funny stuff. Not all of Reddit is dedicated to comedy, but you can sub a few comedy subreddits and you'll almost always have fresh stuff to laugh about. Reddit's official app is a bit simple and we only recommend it because it's a good starting point for those who haven't used Reddit. Once you get into it a bit, there are plenty of other excellent options. Reddit's official app is free to use as well.

Download now on Google Play!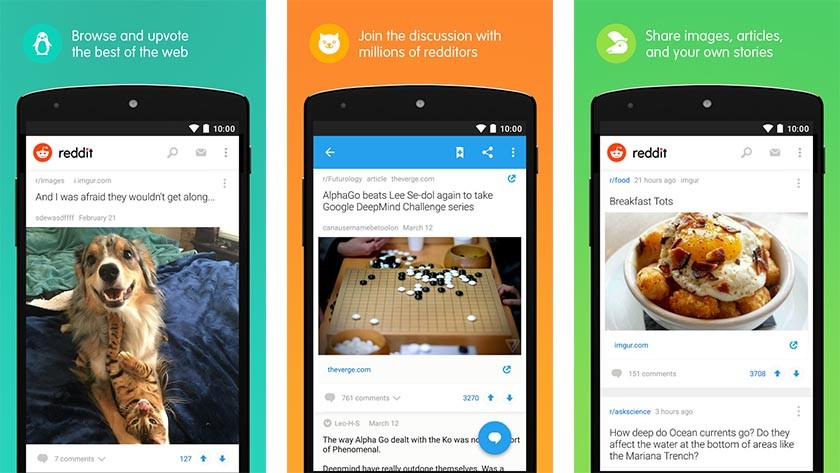 ---
[Price: Free]
StumbleUpon is a content discovery app that actually has a ton of stuff to do. It's not directly aimed at funny content, but that is one of the many categories that you can follow. You'll also be able to follow your friends and other individuals to check out the stuff they find interesting. StumbleUpon takes some time to set up, but it's a lot of fun once you do. It also has full Material Design which helps make it easy to use compared to many funny apps. You can pick it up for free if you're interested.

Download now on Google Play!
---
[Price: Free]
Almost everyone has heard about Tumblr. For those who haven't, Tumblr is a social media and blogging hybrid site where people set up profiles and post various types of content. It's similar to StumbleUpon in that there are a variety of subjects and categories that you can follow so the world is your oyster. The site can be a little rough around the edges at times, but there is also some comedy gold on there from time to time. It's completely free to use, like most social networks, and it's one of the better funny apps.

Download now on Google Play!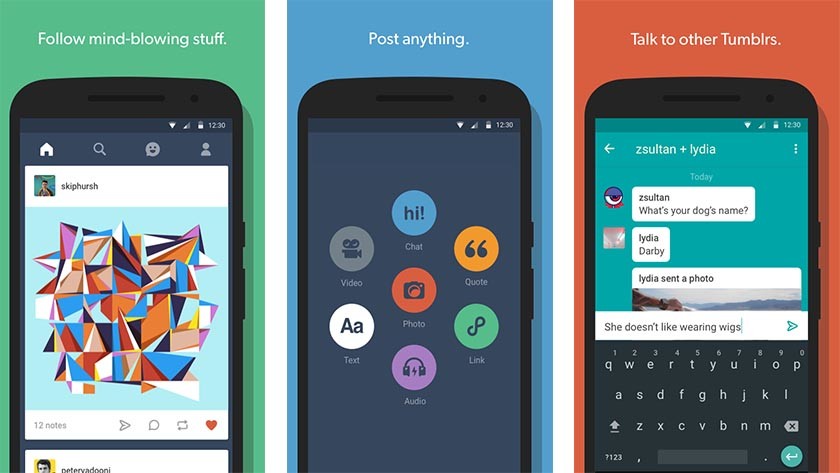 ---
[Price: Free]
xkcd Browser is a comic viewer app that lets you view the xkcd comics. For those who don't know, xkcd is a high-brow comic strip that has more grown up (but not NSFW) types of humor. Since we are a tech blog and many of our readers are nerds to some extent (don't worry, we are too!), many of you have probably head of xkcd before. Along with the comic viewer, you'll be able to view blog posts from the websites. Other features include a randomizer, the ability to save favorites, and you'll have complete access to every comic on the site. It's also free.

Download now on Google Play!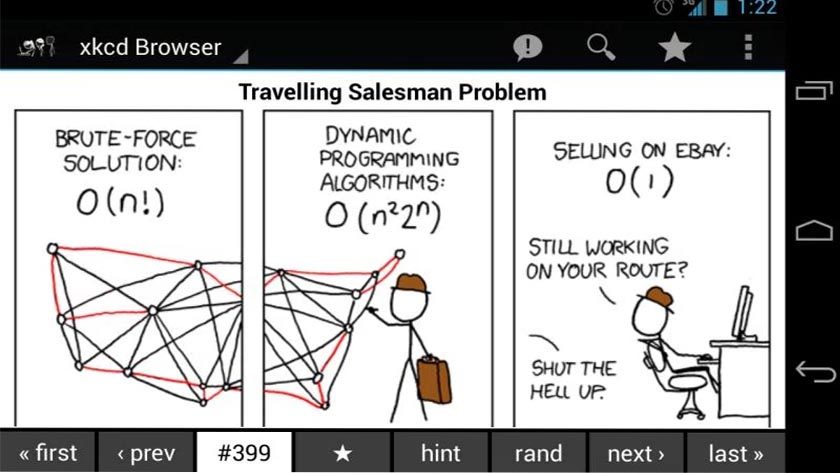 ---
[Price: Free / $ 9.99 per month]
YouTube is fairly ubiquitous but it's an excellent place to find funny stuff. You have an excellent variation of content from stand up comedy clips, sketch comedy acts, web shows, and more. Most people are familiar with the features of YouTube, including its subscription features, so we won't go over those here. The only hard part of YouTube is finding the creators that make stuff consistently so you have something to watch all the time. It has virtually unlimited content which makes it a must have.

Download now on Google Play!
---
Related best app lists:
If we missed any of the best funny apps for Android, tell us about them in the comments! To see our complete list of best app lists, click here.