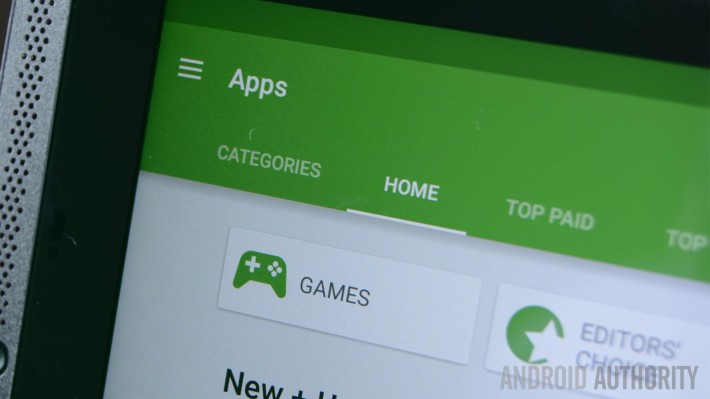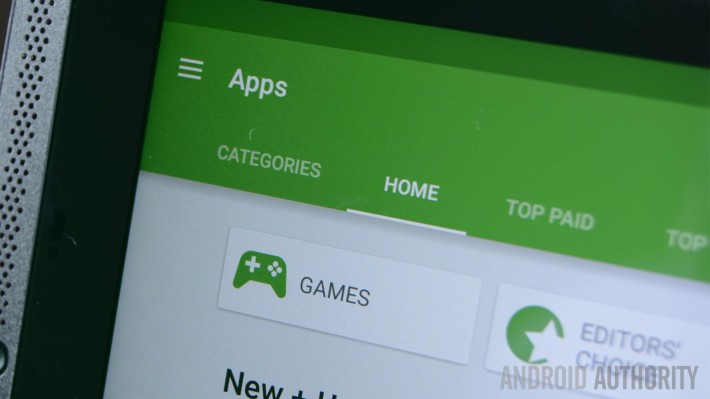 Gaming on mobile has been improving at a far greater rate than any technology that came before it. In 2005, if you had told anyone that you could play Grand Theft Auto: San Andreas on a telephone with the same graphics, you probably would've been laughed out of the building. To say that gaming on Android has been improving is an understatement. Here are the best Android games currently available. Feel free to leave comments to tell us about any that we missed!
Related:
---
[Price: Free with in app purchases]
Many people will likely disagree with this, but Rovio really does deserve a place here. They have released a total of about a dozen games that range from the classic Angry Birds mechanics to other branches such as bubble popping, puzzles, shoot em ups, and even an RPG. The result is a paradise of casual gaming that delivers thousands of levels, hundreds of hours of game play, and its inoffensive nature makes it a natural choice for kids. All the games are free with in app purchases but copious numbers of people have made it through each game without spending a dime. Most games have well over a 4.0 out of 5 rating in the Google Play Store and Rovio is one of the few developers in history to amass over one billion downloads.


---
[Price: $ 4.99]
Anomaly 2 is a hybrid tower offense / tower defense game with online multiplayer capabilities and a highly regarded single player mode. It's $ 4.99 but there are also no in app purchases which a lot of people will like. It comes with some of the best graphics of any Android game and those rocking a Tegra K1 SoC will get a little bit extra thanks to its Tegra optimizations. It's a solid tower defense game with some unique concepts and definitely worth the price.


---
[Price: Free with in app purchases]
Assassin's Creed Pirates is a great example of how much Android games have progressed in terms of graphics. This is a beautiful naval adventure game where you must be the captain of your own pirate ship and search out buried treasure. It features very good graphics and a fun story line. In battle, you shoot cannons at other ships by doing that side-by-side thing that gives the game a glimmer of realism. It used to cost money but now it's free with in app purchases.


---
[Price: Free with in app purchases]
Gameloft really hit a home run with their Asphalt series. They have increasingly good graphics, fun game play, and each new iteration adds more features. The most current is Asphalt 8: Airborne, which includes Google Play Games achievements and a live multiplayer mode. It used to cost money but they switched to a Freemium model (Free to play with in-app purchases). Some like it, some don't, but it's still widely considered to be among the best mobile racing games of all time.


---
[Price: Free with in app purchases]
BADLAND is a platformer game with an undeniably gorgeous design and enjoyable game play. You must navigate through a maze of obstacles to keep pace with an ever scrolling screen. If you fall behind the scroll, you lose. The game features over 100 levels, 23 levels of multiplayer content (including offline, same device multiplayer), simple one-touch controls, cloud save, immersive mode, and the developers repeatedly promise more content in future updates. It still has a lot of time-waster elements but it's definitely a step up in design and mechanics from something like Swing Copters.


---
[Price: $ 9.99 each]
We grouped these three games together because they were all released by the same developer (Beamdog). All three titles are huge, immersive RPGs that were ported from PC to Android in 2014. They feature very long stories with complex game play and are sure to keep you busy for months upon months. The graphics are decent but not amazing because even by PC standards these games are pretty old. However, for the hardcore RPG fan, these are absolutely must have games. They are $ 9.99 each which is a paltry price to pay for a game that will likely last 40-60 hours. The only downside is the UI is cramped a bit on phones. Tablets are a much better medium for these titles.


---
[Price: $ 9.99]
The Banner Saga is a strategy RPG developed by former members of BioWare. It features beautiful hand-drawn graphics, a deep story line that requires the gamer to make decisions that affect the story, and an easy learning curve. It's inspired by Norse mythology and it happened to be a member of our best designed Android games of 2014. The mechanics are strategy RPG (think Final Fantasy Tactics) with a few unique components thrown in for good measure. It's fun, large, and immersive. Perfect for RPG fans.


---
[Price: $ 1.99 with in app purchases]
Like other games on this list, The Bard's Tale is a port of a much older game. The original Bard's Tale was released in 1985 and was considered a cult classic. The port is an amazing reproduction that includes updated graphics and optimizations so it can be enjoyed on Android. This witty RPG boasts around 20-30 hours of game play and for an Android game that's really good. It also comes with Google Play Games support, Android TV support, third party controller support, and even comes in a smaller package for those who don't want the full (albeit very large) HD version.


---
[Price: $ 2.99 with in app purchases]
Bloons TD is a very popular tower defense game where you must blow up a whole bunch of balloons. It's also one of the apps that is most requested by our readers that we add to these lists. The premise is simple and even a tad on the side of kids, but the game is still quite challenging. The graphics are simple cartoon style but they are colorful and fun. There are 21 towers, 40 total levels, two-player co-op on custom levels, 10 secret missions, and more than 250 random missions. It's a great game with a bucket load of content and it's even great for kids. That's a win-win for everyone. The current iteration is Bloons TD 5 and whatever the most recent one happens to be is the one you want to grab.


---
[Price: Free with in app purchases]
Clash of Clans is one of many MMO-RTS games but it is by far one of the best. In this real time strategy, you play as a clan chief who must build up your village to defend it from raiders. Raiders are other real people who play the game and you can raid their villages too. There are clans you can join so you can play with others and over the last year they've integrated clan wars so you can fight other clans. If you like strategy games and social gaming, this will be perfect for you.


---
[Price: Free with in app purchases]
CSR Racing is actually more of a sim game than an actual racer. You play as a racer trying to make it to the top by performing drag races against gangs of riders. It's a fairly simple premise and the game controls are easy to learn. That said, there is a lot of content, better than average graphics, and beating this game will take some time for most people. There is also an online component where people race against others to win rare cars and in-game currency. Recent updates also added Google Play Games services which is just icing on the cake.


---
[Price: Free with in app purchases]
The original Dead Trigger was a big deal. It was one of the best zombie games out there and one of the best shooters. In a world where both of those genres are dramatically over-saturated, being the best in those areas is a high compliment. Dead Trigger 2 came out and it was head and shoulders above its predecessor. It has great graphics, a much more competent story mode, and a lot more unlockable content. It's one of the most solid and stable shooters available on Android today and remains among the top ranked zombie games ever.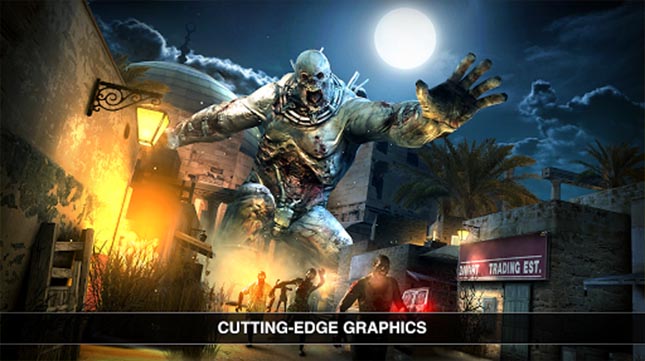 ---
[Price: $ 0.99 each with in app purchases]
Dotomchi Games has a trio of strategy RPGs called Rebirth of Fortune, Sorceress of Fortune, and Mystery of Fortune. They are episodes four, five, and six of a six-part Fortune Chronicle series from Dotomchi so if you're looking for a series to get into, this is a good start. The games have decent graphics and simple game play mechanics. You can create custom move sets for each character and there are thousands of levels between the three games. The hallmark of the series is that, unlike most strategy RPGs, this series is very accessible to casual gamers due to their relative ease. They're also quite inexpensive as you can pick up the whole trilogy for just under $ 3US.


---
[Price: Varies]
Emulators have been a staple of Android gamers for a long time. Even before we had great graphics and longer games, people were able to play Super Nintendo emulators on 1Ghz, single core processors. Emulators remain one of the most popular ways to game today and for good reason. You can pick up emulators for a variety of consoles and that gives you access to essentially the entire game library of each one. That results in thousands upon thousands of games, including the old classics we all enjoyed as kids. If you want to check out the best emulators, the link is just below.
Check out the best emulators on Android!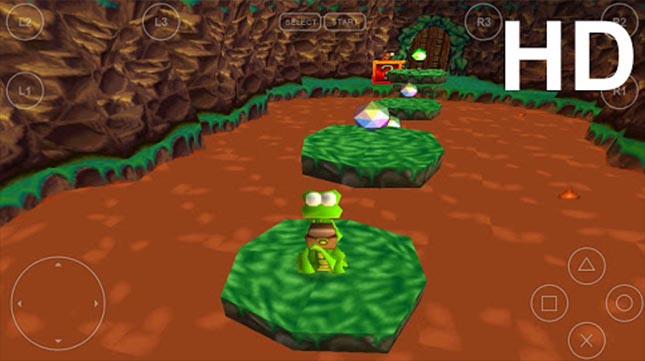 ---
[Price: Free with in app purchases]
Did we stretch a little bit to add a sports game? Probably, but FIFA 15 seems to have a lot of positive things going for it. It has an easy control scheme and far better graphics than practically every other football (soccer) game. There are other modes that players can enjoy and the game includes rosters for hundreds of teams. There are some in-app purchases and the developers are a tad aggressive with it, but with a little patience and self control, you can move passed that and enjoy this great game.


---
[Price: $ 2.99 each]
The Five Nights at Freddy's trilogy are horror games that rely on shock to scare the pants off of you. For many people, it works and the franchise is definitely among the most creepy games out there. The first two were released in 2014 with the latest iteration released in early 2015. All three rock excellent Google Play Store ratings, have simple game play mechanics, and will almost certainly creep you out. Also, not one of them have in-app purchases.


---
[Price: Varies]
Rockstar has been avid about moving many of their older Grand Theft Auto games over to mobile. Their latest release, Grand Theft Auto: San Andreas was a huge hit for Android games enthusiasts and you can see our review in the video below. You can also pick up Vice City and Grand Theft Auto 3 for about as much as the used console versions go for at your local used game shop. All three of these games are huge with dozens of hours of game play, open world mechanics, and plenty of content to enjoy. The older ones are a bit buggy so be sure to test them out before the refund time if you try them out!


---
[Price: Free with in app purchases]
Hearthstone Heroes of Warcraft is a card game that is based around the Warcraft world and developed by Blizzard. In the game, you build a deck and go on missions to collect cards, then you duel it out online against other players. It's highly popular, especially with the Twitch crowd and it's free to play. The only downside is that the game can't be played on devices with screens under 6-inches. That means it's almost exclusively for super huge phones and tablets for right now.


---
[Price: Varies]
HyperDevBox Studio has at least four strategy RPGs available for you to buy and play. They feature decent graphics, good storytelling, and are about as close as you can get to a professional Final Fantasy Tactics replacement on Android. The games are fairly expensive which may chase some people away, but underneath are games that have a clear advantage when it comes to depth and story telling. Blazing Souls even boasts a 100-hour story line which is simply ridiculous. To see the entire HyperDevBox Studio collection, click the button below.


---
[Price: Free]
Ingress is a GPS-based strategy game where you must choose sides, build up portals, and hack the portals of the other team. The entire world is your playing field and aside from Wii Fit, this game is probably more responsible for getting nerds off the couch and out exercising than any other game. There is also a scavenger hunt features called Missions where you go on missions to find things and explore the city. It's one of the most unique mobile games in existence and there's a wildly faithful fan base. The only downside is if you live in an area with very few active players because then it gets a little boring.


---
[Price: Free with in app purchases]
Injustice: Gods Among Us is among the best fighting games available on Android. It features an extensive cast of DC comics heroes that you use to duke it out against other DC comics heroes. The game play is simple enough to understand. You collect character cards and build teams of three. You then duke it out in an epic 3v3 battle royale between your fighters and the opponent's fighters. It's a solid game with graphics and likely the best DC-related games to ever grace the Android platform.


---
[Price: Varies]
Kairosoft is known for its simulation games. You may have heard of Game Dev Story, Ninja Village, and others that round out an amazing portfolio of games that are all worth trying. Game Dev Story has you building a game development studio from the ground up while Ninja Village has you building a village, assembling an army, and unifying the continent. There are others such as Biz Builder, Pocket Harvest, Mega Mall Story, and others that have gathered similar success and they all have very high ratings in the Google Play Store. Click the button to see their entire portfolio.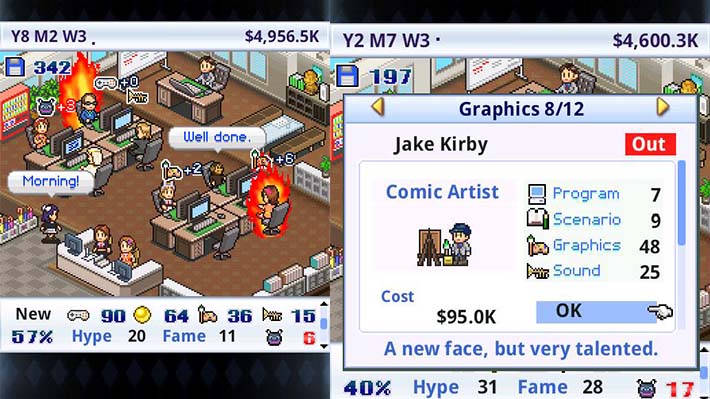 ---
[Price: $ 1.99-$ 2.99 with in app purchases]
Kingdom Rush is a budding game franchise that people have really grabbed a hold of. It is a tower defense game and one of the highest rated, most popular ones out there. There are three games in the series including Kingdom Rush, Kingdom Rush: Frontiers, and Kingdom Rush: Origins. All three use roughly the same mechanics since they are all tower defense games. They start out easy and get more difficult as you progress. They also cost about $ 2-$ 3 per game which is about a cup of coffee in some establishments which makes them a cheap way to have a lot of fun.


---
[Price: $ 4.99]
Leo's Fortune is a platformer that was demoed at Google I/O and has enjoyed success ever since. The game is graced with clear, HD graphics that are both colorful and fun along with a simple control scheme that makes it easy to play. It also comes with Android TV support, third party controller support, Google Play Games services, and a decent replayability rating considering the genre. It's one of the best 2D platformers available on Android and definitely worth the price.


---
[Price: $ 4.99]
Limbo hit the ground running when it was released in early 2015 and it's already one of the most enjoyed and talked about games of the year. You play as a kid looking for his sister in the creepy, monochrome world of Limbo. The throwback black and white design fits the atmosphere perfectly and this is easily one of the best designed games of 2015 so far. The story is decent and the game play mechanics are solid. If you don't believe me, the game has an incredible 4.8 out of 5 rating in the Google Play Store with over 5000 reviews in total.


---
[Price: $ 4.99]
Machinarium was one of the first truly great puzzle games on Android. It features a little robot that you control and you must move about your environment finding items and using them to solve puzzles. It's been remastered since its initial release and includes Google Play Games services, cloud saving, and improved graphics. It'll be among the first wave of games on Android to be considered "classics" and $ 4.99 more than reasonable, even if the game is a little short.


---
[Price: Free with in app purchases]
Sports games on Android haven't quite taken off like other genres have. At least not yet. That doesn't mean that there aren't good sports games out there and Madden NFL Mobile is one of them. It's one of the very few Android games that even has every team. It also has decent graphics, good game play, and a decent amount of content. It used to go under a different name but this more ambiguous naming structure allows them to update every year without worrying about numbers. There are a few glitches here and there but otherwise it's about the most competent American football game you can get.


---
[Price: $ 6.99]
Minecraft was already a popular game before it showed up on Android and it's gotten more popular since. It's been in the top 5 best paid Android games in the Google Play Store for well over a year now. There's a reason and it's because Minecraft is awesome. In this completely customizable game, you build things, mine things, kill things, and do all sorts of other things. With enough creativity, the sky is the limit. It's a tad pricier than many others on this list but millions believe it's worth every penny and that includes us.


---
[Price: Free with in app purchases]
Modern Combat 5 is the latest iteration of the first person shooter series of Modern Combat. It features very good graphics, fun game play, online multiplayer, and a single player campaign. There is a lot of content here to enjoy and the developers have recently gone ahead and made the game a Freemium title. That will likely get some flack in the short term but if Dead Trigger 2 and Asphalt 8: Airbourne has taught us anything, it's that the flack won't last forever. It's still a good shooter and it's still fun to play. You just have to dodge some in-app purchases now.


---
[Price: $ 3.99 + $ 1.99]
Monument Valley is a masterpiece. It utilizes brilliantly designed puzzles that employ geometric illusions that you must solve to get to the next level. The way these levels fit, turn, flip, and move together to create these new shapes is really something you have to see to truly appreciate. That makes Monument Valley one of the must have Android games. There is also a kind of story line about a princess in a dead world. It's not overly deep but it serves its purpose to drive the game forward. It's a lot of fun and considered by many to be one of the best games of 2014. There is also an expansion called Forgotten Shores for $ 1.99 that adds 5 additional levels.


---
[Price: $ 4.99]
NBA Jam is a remake of the old console classic from the 1990's. In this title, you play as a two-man team against another two-man team. The rules are relaxed so shoving is not only allowed, but recommended. Three baskets in a row without the opponent scoring gets you on fire and that's when you see some really awesome dunks and make some ridiculous 3-point shots. It's $ 4.99 but there are no in-app purchases and it also comes with Android TV support, third party controller support, and online multiplayer along with local multiplayer.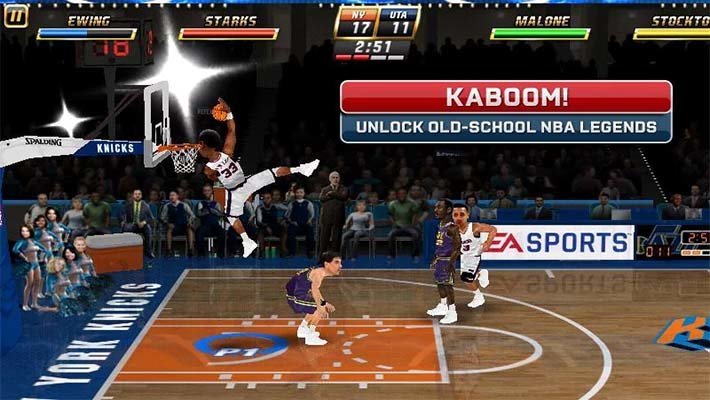 ---
[Price: Free / $ 6.99 with in app purchases]
The NOVA series is another first person shooter that utilizes more sci-fi elements. Think of it like the Halo to Modern Combat's Call of Duty by comparison. These games both have great graphics, online multiplayer modes, a 10-mission campaign mode, and more. The story is actually pretty decent and the online multiplayer matches can have up to 12 players in seven different matchmaking game types. These are essentially the same game, so pick whichever one you want.


---
[Price: $ 2.99]
Osmos HD is a deceptively awesome game. When you just look at it, you see you control a little mote that must absorb smaller motes to become larger and, thus, absorb larger motes. In reality, this incredibly challenging brain teaser is both beautiful and fun. With the ambient music and variable speed game play (determined by user), you can literally spend an hour on a single level before you beat it and enjoy every minute of it. It's a truly unique gaming experience and one you shouldn't miss.


---
[Price: $ 3.99]
Out There is a hybrid of a survival game and a sim game. It brings with it some very challenging game play, Google play games achievements, three different endings, and a truly unique and fun premise. You play as an astronaut who awakens from cryonics somewhere deep in the vastness of space. You have to survive, keep your oxygen levels up, and rebuild your ship while dealing with aliens who don't speak as you speak but you eventually learn to speak like they do. It's entertaining, difficult, and a game that'll keep you busy for a while.


---
[Price: Free with in app purchases]
Here by popular demand from our readers is Real Racing 3. This is a racing title that features some pretty fantastic graphics, over 100 cars various manufacturers, and over a dozen extremely detailed tracks. The game play mechanics are simple enough to learn and have that distinct "easy to learn, difficult to master" aspect that works well for casual and hardcore gamers alike. There is even a pretty active online multiplayer scene. It does have a few issues here and there depending on your device, but most of the major bugs have been fixed and the developers seem to be active in developing bug fixes and adding features.


---
[Price: $ 2.99 with in app purchases]
République is a stealth-puzzler Android game that features high quality graphics, a thrilling story line, and plenty of content. It was a popular iOS game until it was ported to Android and it's been growing in popularity here as well. It takes place over five episodes which you purchase as in-app purchases similar to how Telltale Games do their titles. The mechanics are easy to learn and the stealth aspect of the game keeps you on your toes. It's quite the immersive and memorable experience.


---
[Price: $ 2.99 with in app purchases]
Riptide GP2 was one of the first big releases following the Google Play Games services release. As such it has achievements, online multiplayer, and cloud saves. It also happens to be one of the best racing Android games period. It is challenging, it has great graphics, and it's a fairly unique premise for a racing game. You can easily beat the game without in-app purchases and it's also easily the best wave runner racing game since Wave Race 64. You don't want to miss this one.


---
[Price: $ 0.99 and $ 2.99 respectively]
The Room 1 and 2 are a couple of puzzle games that offer a unique experience. Most items in most rooms are puzzles inside of puzzles and then there are puzzles inside of those. The result is a fun rabbit hole of puzzles that gamers can easily dive into. The graphics in both games are phenomenal and there is even an darker, arcane story line that stays out of the way, but it's there nevertheless. The prices are more than reasonable and both games rock amazing ratings in the Google Play Store.


---
[Price: $ 1.99 and Free, respectively]
Shadowgun is the third of a trio of first person shooters that rank among the best on Android along with NOVA and Modern Combat. Shadowgun is kind of a mixture of the two as it has more realism than NOVA but more sci-fi than Modern Combat. Shadowngun the regular game is $ 1.99 with no in app purchases which is a fantastic price while Shadowgun: Deadzone is nothing but online multiplayer. To get the full experience, you'll need both games but it is good to see the studio take the online component so seriously that it needed its own game. Both have great controls, great graphics, and contain large amounts of fun. Did we mention this is from the same studio that brought us Dead Trigger?


---
[Price: $ 2.99 and $ 6.99]
The Shadowrun series is an RPG that is based on an old tabletop game from the 1980's and on a host of video games in the 1990's and 2000's. It features strategy RPG style game mechanics (again, think Final Fantasy Tactics) that are efficient but do require a bit of a learning curve according to our YouTube host Josh Vergara. The game almost seemlessly blends high fantasy (elves, etc) elements with steampunk elements to create a truly unique atmosphere. Both of these titles are must plays if you're a strategy RPG fan but if you can only play one, make it Dragonfall.


---
[Price: Free with in app purchases]
Many people didn't even know there was a Sims game available for Android, but there definitely is. It's called The Sims FreePlay and as the name implies, you can play the game for free. If you've played any Sims game before, you know how this game works. You essentially play God in the life of a person you create. This game centers around teenagers rather than full adults, but the basic things that makes the Sims great is all there. Overall, it's a solid experience and worth checking out if you enjoy the franchise.


---
[Price: Free with in app purchases]
Sky Force 2014 is a top down shooter where you control a fighter plane taking out massive amounts of bad guys. It's an ode to the top-down fighter plane days of old but features significantly better graphics than its retro ancestors. There is actually a campaign mode and you can not only unlock new fighter planes, but upgrade each of them as well. That means there is a lot of content. There are even Google Play Games services that utilize achievements and leaderboards. Definitely a great time waster and one of the few truly good free games that also have in app purchases.


---
[Price: Free with in app purchases]
Smash Hit is an infinite runner style game that adds a bit of class to the genre. The muted colors, sharp graphics, atmospheric music, and smooth game play add a level of sophistication you just don't get in other infinite runner titles. It's one of the cleanest looking Android games available and it's free with in app purchases. The in-app purchases are essentially a full version unlock so you can see stats and save your progress. You can play the whole game without paying a dime although at the price they're asking, it's worth a few bucks.


---
[Price: Varies]
Much like Square Enix, Sega has worked very hard to bring as many of their Sonic the Hedgehog offerings to Android as humanly possible. You can pick up the original Sonic and Sonic 2 games on Android which have been adapted for touch screen controls but are otherwise exact replicas of the originals (with improved graphics for HD displays). There are also a handful of native Android games available. One such example is Sonic Dash which is an infinite runner. Sonic and Sonic 2 alone were enough to make this list based on their iconic value alone but if you click the button, you'll be taken to Sega's developer page on the Google Play Store to see all of their Android game offerings featuring Sonic.


---
[Price: Varies]
Square Enix has released a good percentage of their early game library to Android. The re-releases include Final Fantasy 1, 2, 3, 4, 4: The After Years, 5, and 6 along with various Dragon Quest games, Chrono Trigger, and Secret of Mana. The best part is that these games remain generally untainted from their earlier days aside from a graphical boost here and there. The other best part is that none of them have in-app purchases. Along with the re-releases, Square Enix has a decent number of original games including the Chaos Rings (RPG) franchise, Hitman GO (strategy/stealth), and Deus Ex: The Fall (shooter/stealth), and others. The button below will take you to their developer page where you can check out their offerings.


---
[Price: $ 4.99]
Star Wars: Knights of the Old Republic (KOTOR) is an old PC RPG that took the world by storm when it was first released over 10 years ago. It allowed you to make decisions that affected the outcome of the game and let you play how you wanted which was still a newer concept at the time. It helped start a trend that continues today. This is a full port and has not been scaled down in any way from its original PC version with the exception of the addition of touch screen controls and graphic improvements for HD screens. It's a huge game, but it is a little slow so hardcore RPG fans will likely love it the most.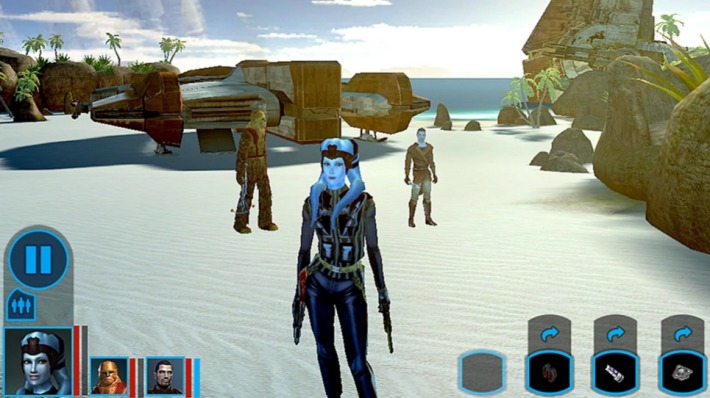 ---
[Price: Varies]
Telltale Games made an enormous splash in 2014 with their episodic adventures. They're mostly known for The Walking Dead Season 1 and The Walking Dead Season 2, but they're also gained a following for their other games, which include Game of Thrones, Tales from the Borderlands, and The Wolf Among Us. You really can't go wrong with any of these games. Telltale uses a similar mechanic in each of them where the story is told in five-episode seasons and you buy each episode separately as in-app purchases. So far, very few people have had bad things to say about these games and and they remain true to the various medias they hail from. For instance, Tales from the Borderlands actually feels like a Borderlands game while The Walking Dead is full of drama, survival, and hard decisions just like the TV show. They're amazing experiences that you shouldn't miss.


---
[Price: $ 4.99 with in app purchases]
Terraria is widely hailed as the 2D Minecraft and in some cases that's true. You mine for resources, create things, and kill things much like Minecraft and there's even local multiplayer in both titles. However, Terraria also includes boss fights and some other extra features. By no means is either game better than the other, but both are extremely positive experiences. Terraria gives you over 1250 recipes, 15 pets, 150 enemies, and 50 different block types for your mining pleasure. It's a deep game with a lot of content and you can have a lot of fun with it.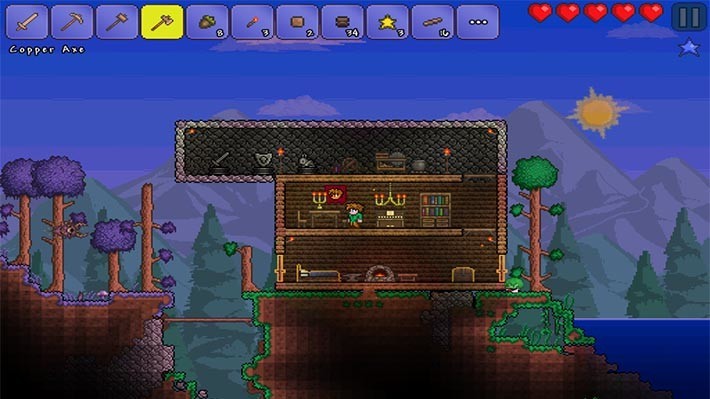 ---
[Price: $ 4.99]
World of Goo is the last puzzle game on our list and it's also one of the best. In this game you must build a structure that reaches a pipe to suck up the excess goo. In order to get the max score, you must use as few moves as possible so the pipe sucks up the most possible goo. It's fun and genuinely thought provoking. It also offers a number of fun activities to play outside of the main game like the freestyle build mode. It also has Google Play Games achievements. That's a home run.


---
[Price: $ 12.99]
XCOM: Enemy Within is a strategy game that was ported to Android from PC. It features graphics that are far above average for mobile as well as a lengthy single player campaign that has you fighting off an alien invasion using chess-style strategy mechanics. There is also online multiplayer, a lot of equipment and weapons to level up to help you in your quest, and it's really just an overall great experience. It's a tad pricey and the game play can be slow at times but otherwise, there's very little wrong with this strategy game.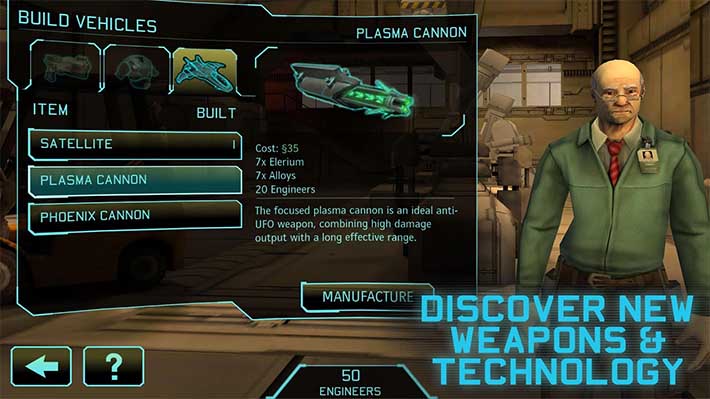 ---
Wrap up
If you've made it all the down here, thanks for reading! If we missed any awesome Android games and you want to tell us about them then please leave a comment below! We do update these pieces periodically and your input is always welcome!