Before Android 5.0, the Android power menu (reached by pressing and holding the physical power button) included options for an airplane mode and setting the ringer to on, vibrate, or silent. And that was just the AOSP implementation: some manufacturer skins, custom ROMs, and root tools added extras like a screenshot button, a reboot menu, and other goodies. But with Android 5.0, we get… this.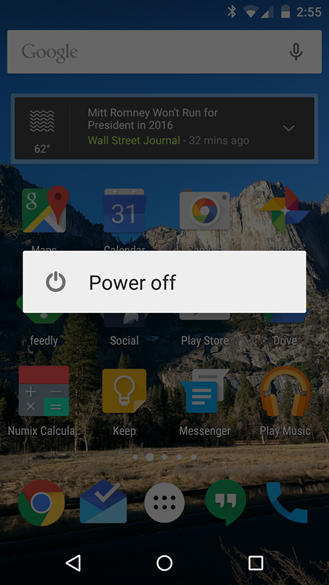 Screenshot source: Geek.com
The Airplane Mode and notification options have been moved to the Quick Settings menu and the volume rocker pop-up, respectively, but there's really no reason aside from aesthetics that the power menu should be so bare.
Material Power Menu Replaces Lollipop's Standard Power Menu With A Prettier And More Useful Alternative was written by the awesome team at Android Police.