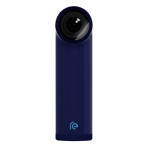 Should you pick up one of HTC's RE cameras? I don't know. It looks like an inhaler and seems a bit awkward, but hey, maybe that's just part of its charm. If you've been on the fence, now might be the time to reconsider. The product is currently on sale for $ 99 at Best Buy as part of today's Deal of the Day, 50% off its usual price.
The discount is available regardless of whether you want the device in blue, orange, or white.
[Deal Alert] HTC RE Available For $ 99 (50% Off) From Best Buy As Today's Deal Of The Day was written by the awesome team at Android Police.