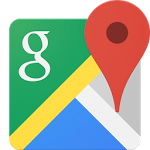 Let's face it, Google Maps' current offline functionality sucks. Even saving an area for offline viewing is a relatively hidden option that you either stumble upon by mistake once or that you have to actively remember how to get to when you need it. But Google seems intent on making offline maps better.
It doesn't seem like they're changing the way saving offline maps work, which is a shame because it's difficult to find and there's no option to easily download a state or city, but they are adding more functionality that will be accessible when you're offline.
Google Maps Is Getting Offline Search And Turn-By-Turn Navigation was written by the awesome team at Android Police.