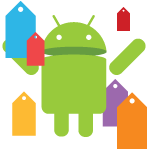 We all love getting new stuff, but most people expect you to pay for it. What a bummer. At least if you wait for things to go on sale you can get new stuff and spend a little less money. So here are some sales—go, spend, enjoy.

Sponsor
Today's sales roundup is sponsored by the Keedox and the mini car Bluetooth V4.0 music receiver. You can more easily to share music with your family and friend in car with your mobile phone or tablet without cables, and it's on sale for just $ 16.99.
Thursday App And Game Sales: Baldur's Gate Enhanced Edition, Ultra GPS Logger, Carcassonne, And More was written by the awesome team at Android Police.