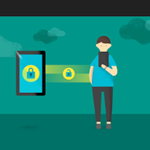 Google is currently rolling out a new smart lock mode called on-body detection. The feature, described in the screens below, uses your accelerometer to figure out when your device is in your hand or pocket, and lock when it's not. The idea being if you leave your phone sitting on a table or forget it somewhere, it will lock, preventing would-be thieves from easily accessing your data.
Once you unlock your phone, it will stay unlocked while you're holding it or it's in your pocket.
[Trusted Butts] New "On-Body Detection" Smart Lock Mode In Android Seems To Be Hitting Some Devices was written by the awesome team at Android Police.