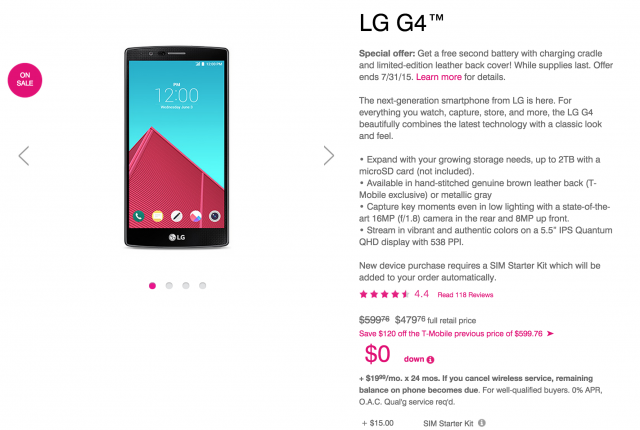 It's been almost 2 months since the LG G4 launched on T-Mobile. Since then, we've seen a few good promos, with LG throwing in a variety of accessories for the phone. But it's only today today the phone itself is getting marked down, with an official price drop from $ 600 to $ 480.
While it wont have a very big impact on your monthly bill for those who opt for a payment plan (it drops from $ 25 a month to $ 20), it's a pretty nice discount for those looking to buy the phone at full price. Especially considering what it's still going for on rival carriers (between $ 550 to $ 630).
If you have the money for it, the sooner you act the better. We're not sure how long the deal will last, but don't forget that you can still claim LG's accessory promo, netting you a free battery, charger, and leather back until the end of July. Now that's not a bad deal at all. Direct link to the LG G4 on T-Mobile and LG's promo page provided below.