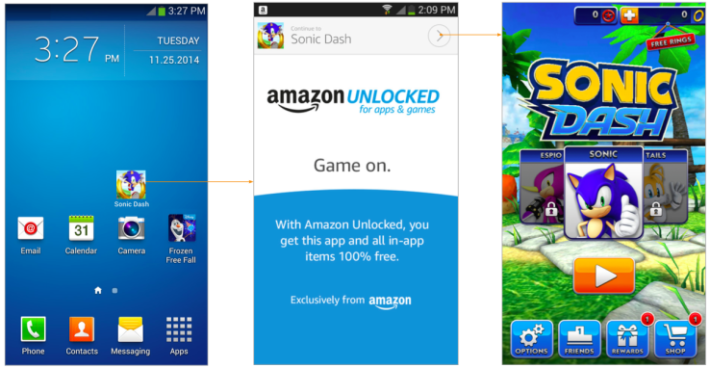 Amazon has certainly been trying to bolster its Appstore installs lately. Not only is the company constantly giving away paid apps and games for free, it even recently launched a $ 25,000 sweepstakes to get Android users to install its Appstore. But Amazon might have another way to bring up Appstore installs, according to a new report from TechCrunch. Amazon will reportedly launch a new service called "Amazon Unlocked", which will offer users a wide range of paid apps, including in-app purchases, free of charge. TechCrunch describes the service as "Amazon Prime, but for apps".
Developers will be given the option to participate in the program or not. If they decline, the applications will still be available in the Appstore, but for full price. If a developer opts into the program, it's not guaranteed that the app will be part of Unlocked forever. The application's availability is based off of the developers discretion, so an app that's part of Unlocked one day may not be part of it the next.
Additionally, applications will be recommended to users based on previous installs, and users will have the option to filter searches to only look for Unlocked apps if they so choose.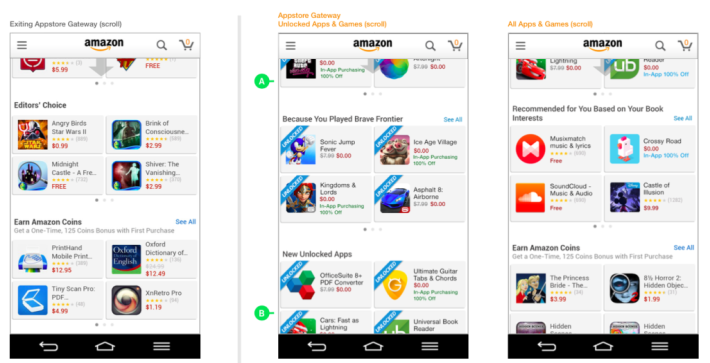 Among the many app makers included in the screenshots, notable developers include gaming giants like Sega America, and even smaller startups like UsTwo, the creators of Monument Valley. A few non-gaming apps are listed in the Unlocked program as well, including the OfficeSuite 8+ PDF Converter and Ultimate Guitar Tabs.
As far as details are concerned, there's no word yet as to when this program will launch or how much it will cost. Amazon could make the service free in the beginning, or require a monthly fee for all users. The company could also roll it out as part of an Amazon Prime membership, too. But for now, this is all just hearsay. We'll be sure to update you if we hear anything more about it in the future.