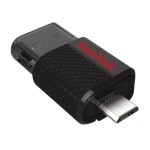 One of the cooler and, in my opinion, underutilized features present in many modern Android flagships is the ability to use MicroUSB OTG devices to quickly transfer media. If this is a feature that you have wanted to take advantage of for a while, but just haven't gotten around to picking up a OTG thumb drive, then now might be a good time to finally grab one.
Today you can buy a 64GB SanDisk USB 2.0 OTG flash drive for just under $ 19.
[Deal Alert] SanDisk 64GB USB OTG Drive Just $ 19 on Amazon was written by the awesome team at Android Police.