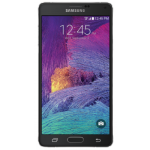 The Galaxy Note 4 was a beast of a device at launch, and as a direct result, it came with a beast of a price tag (funny how these things work). It's the kind of phone that carriers offered for $ 300 on contact, which is enough money to outright own a decent piece of hardware these days.
Now that the Galaxy S6 exists and we're nearly a year out since the Note 4's launch, it's easier to get the 5.7-inch device at a more reasonable price.
[Deal Alert] Unlocked Refurbished Samsung Galaxy Note 4 Now Only $ 400 On eBay was written by the awesome team at Android Police.