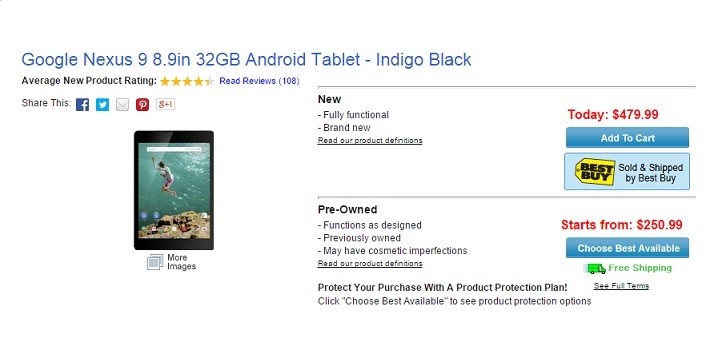 While far from perfect, the Nexus 9 is still one of the best Android tablets on the market today, especially if you're a fan of stock Android. For those that were hoping for more aggressive pricing, however, the Nexus 9 might be a little more expensive than you'd like. That's where the Best Buy-owned Cowboom comes in to play, offering up the pre-owned Nexus 9 32GB for $ 250.99.
This is the cheapest we've every seen the 32GB Nexus 9 offered for, and if you don't mind getting a pre-owned device, this is one heck of a deal. For those that need a refresher on what the Nexus 9 has to offer, the tablet features an 8.9-inch display with 2048×1536 resolution, a dual-core 2.3GHz Nvidia Tegra K1 processor, 2GB of RAM, 32GB storage and a 6700mAh battery. As you'd expect from a newer Nexus, you also get Android 5.0 Lollipop out of the box.
Not sure if the Nexus 9 is the right tablet for you? Be sure to check out our full review.
Buy now