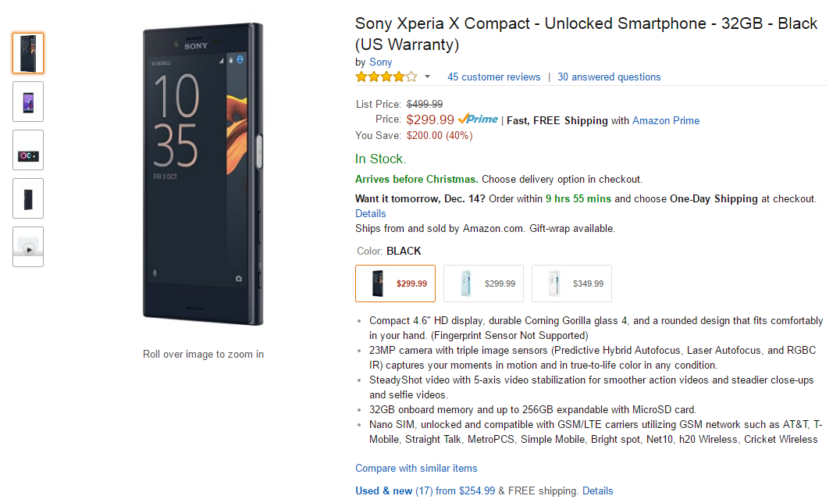 The Sony Xperia X Compact started selling in the US a few months ago – in September to be exact. Initially, the device retailed for $ 499.99 but is now available for far less. Well, at least over at Amazon.
The online retail giant is currently selling the device for $ 299.99, which is $ 100 off its regular price and $ 200 the list price. But the offer is only valid for the Black and the Blue version of the device. If you want to get your hands on the White model, you'll have to fork out an additional $ 50.
The device features a 4.6-inch display with a resolution of 1280 x 720 pixels. You'll find the Snapdragon 650 processor under the hood along with 3 GB of RAM, and 32 GB of storage for your photos, apps, videos, and other content. To keep your data safe, the Xperia X Compact also features a fingerprint sensor, which is located on the side of the device.
It also has a 23 MP camera at the back with an f/2.0 aperture, a non-removable 2,700 mAh battery, and ships with Android Marshmallow. However, the Android 7.0 Nougat update is expected to hit the Xperia X Compact sometime next year.
$ 299 at Amazon
The Sony Xperia X Compact is unlocked and has a US warranty. If you're thinking of buying one, click the button below to visit Amazon's sales page. We have no idea how long this deal will last, so as always, we advise you to move fast if you want to get it. Any takers?