The AAPicks team writes about things we think you'll like, and we may see a share of revenue from any purchases made through affiliate links.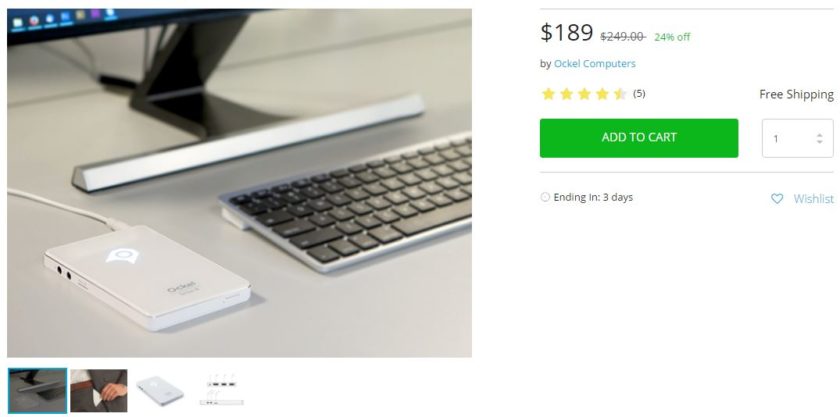 Well, this is a curious one.
Ockel has created a Windows 10 PC that can fit in your pocket.
For real. I mean, I guess we should have seen this coming, what with Moore's Law in full swing and technology getting more and more compact. Still, the idea of a "portable desktop computer" is an intriguing one.
The Ockel Sirius B is a mini-computer. The device is powered by a quad core Intel processor fueled by 2GB of RAM and has full WiFi and Bluetooth capabilities. There's 32GB of internal storage but you can always extend it via the microSD card slot to 128GB. Get this: in contrast to the latest smartphones coming out, it even has an audio jack. What a time to be alive!
The Sirius B has USB and HDMI support, and an HDMI cable comes packaged with the device alongside the power cable and power adapter.
Honestly, this thing is everything it says on the tin. It's a replacement for that clunky, fan-packed desktop PC that's been collecting dust over there for the last few years, but it fits in your pocket. Plug it up to a display, and you're good to go.
What a time to be alive!
When Ockel originally pitched the idea for a micro PC they raised over $ 450,000 in funding, and the Sirius B is well-reviewed across the board. It's definitely an atypical product for the atypical techie, but it has found a niche following.
Sirius B in a nutshell:
Compute powerfully on the move w/ Intel-powered Windows 10
Use this pocket-size PC wherever you want by simply plugging into an HDMI display & connecting to a power outlet
Quickly browse files & open applications with the built-in 32GB flash storage
Connect to almost any device you want w/ two USB 2.0 ports, an HDMI port, Micro SD card slot, & AUX in/AUX out
Browse fast & connect wirelessly w/ ease thanks to built-in WiFi & Bluetooth
If you're in the market for a stand-apart holiday gift (for a family member… or yourself) then this looks like a pretty solid option.
The Ockel Sirius B normally goes for $ 250, but in light of the holiday season, it's currently on sale for $ 189. If you refer a friend, Tech Deals will even toss 10 extra bucks your way.
If you're intrigued, click the button below to check it out!
Read More
The AAPicks team only spotlights legitimate, verified deals. If you're not satisfied with this product, Tech Deals offers a 30-day money-back guarantee. If you have questions or concerns, please reach out at
[email protected]
.