There's a new player in the smarwatches major leagues. It's called keldD, an unknown brand (by now) that has developed the first true standalone smartwatch. That means it doesn't need to be connected to a another device to work. KeldD Karavan X-1, their first model, supports 3G SIM Card and this is not just another 'wearable'. KeldD has complete Android OS, so it can run any app from the Play Store.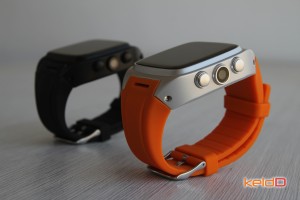 These main features make it a powerful device, that allows you to make or receive calls and keep connected to the net, without the need of carrying a phone. It's difficult to foresee a world without smartphones. But what if you have all the features of a smartphone in a small device on your wrist? What if you still can use a tablet or laptop for tasks when a larger screen is needed? That's it, a future without smarphones. It won't be easy for keldD to compete in a league of big players, such as Apple or Samsung, but the product is good enough to success.
With a 5.0 mpx camera, 1.3 Dual Core Processor, 4 Gb of internal memory and a powerful battery that can last up to a week (on standby mode, of course), it has all the chances to become a top gadget. KeldD's brand strategy is also, at least, original. It's been realeased firstly in Pakistan. Weird? Sure, but Pakistan is at the moment a huge market with more than 180 million citizens. In fact, it's a clever move before the launch in Europe, which is expected for summer.
Official website: www.keldd.com