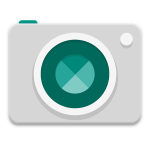 Motorola ships a mostly stock-looking build of Android on its devices, but it does pack in a few exclusive software tweaks. Exhibit A: Moto devices can load up the camera with a flick-to-launch gesture. Motorola ships its own app to make this possible, which until now came with the stock KitKat icon. Today Motorola has updated the app with a unique look of its own.
Old, New.
The Motorola Camera's new icon is still clearly inspired by Google Camera's, borrowing from its flatter design and multicolored lens.
Motorola Gives Its Camera App A Flat, Teal Icon In Latest Update was written by the awesome team at Android Police.