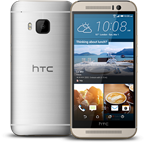 The CyanogenMod team continues to expand its selection of builds for its aftermarket ROM, and today no less than four new devices are being added. Those would be HTC's 2015 flagship One M9, Lenovo's budget-oriented ZUK Z1, NVIDIA's SHIELD Portable (the original one with the attached controller), and the SHIELD Tablet.
As usual, CyanogenMod arranges builds by codename: the M9 is "himaul," the Z1 is "ham," the SHIELD Portable is "roth," and the SHIELD Tablet is…
Official CyanogenMod Builds Now Available For The HTC One M9, Lenovo ZUK Z1, SHIELD Portable, And SHIELD Tablet was written by the awesome team at Android Police.