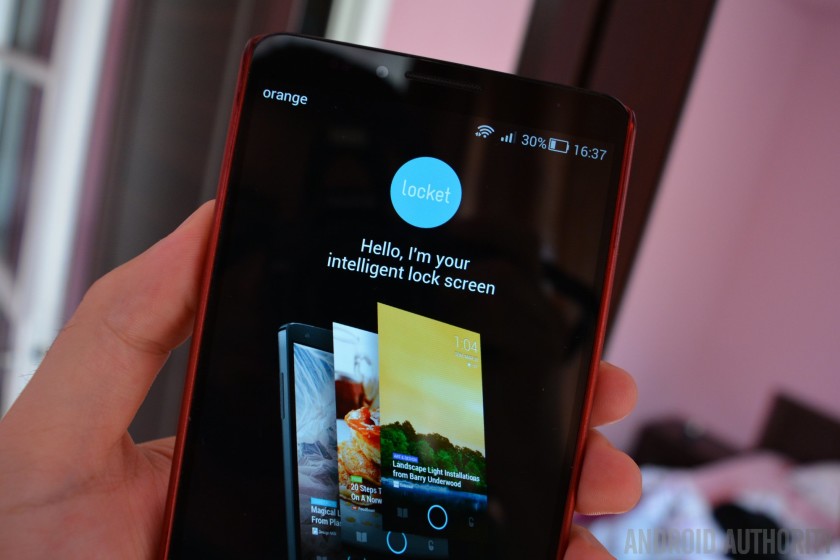 Locket, an app that aims to put news stories that are relevant to your interests right on your Android lockscreen, has been acquired by online shopping app Wish.
Locket, which our Joe Hindy reviewed last year as part of his Indie App of the Day series, tries to add smarts to the largely static lock screen of most Android devices. You can select the news categories you're most interested in and have news pertaining to them displayed every time you pick up your phone. Locket employs simple swipe motions to unlock the device, read a full story, share or save it for later. If you like to keep yourself informed or entertained with minimal effort, Locket seems like a great idea.
Now Locket is being acquired by ecommerce platform Wish. Boasting 100 million users, Wish is one of the leading mobile commerce platforms, offering thousands of products at prices that are 50 to 80 percent cheaper than the equivalent products you would find in a mall. Founded in 2011 by former Google, Facebook, and Yahoo employees, Wish has secured almost $ 580 million in funding, with lead investors including Jerry Yang, Formation 8, GCV Capital and most recently DST Global. Some of that money will be used on Locket, though the value of the acquisition hasn't been disclosed. As part of the deal, Locket founder Yunha Kim has joined Wish as Head of Growth.
So, where will Wish take Locket? We can speculate that the goal is to put Wish's wares in front of even more potential buyers –  in the future, Locket could display hot new Wish deals, in addition to the usual news stories.
Leading Mobile Commerce Platform, Wish, Acquires Locket
Locket CEO Yunha Kim Joins Wish as Head of Growth
SAN FRANCISCO, California, July 15, 2015 — Furthering its vision to create an engaging, native mobile experience, Wish, the leading mobile commerce platform, announced that it has acquired Locket, an intelligent personalization platform that brings breaking news and other content to smartphone lock screens.
Founded in 2013, Locket has reached more than one million users and raised $ 3.2 million from investors including Tyra Banks and Turner Broadcasting. Yunha Kim, Founder and CEO of Locket, will be joining the Wish executive team as Head of Growth to lead growth initiatives and communications for Wish and its family of mobile shopping apps, including Wish, Geek, Cute, and Mama.
"Wish is creating what Amazon could have been on mobile — a personalized shopping mall available in your pocket for anyone around the world," said Kim. "I'm delighted to be joining the Wish team."
Wish's acquisition of Locket reflects the company's continued investment and focus on content discovery for mobile users. "Our mission and Locket's missions are highly aligned," said Peter Szulczewski, CEO of Wish. "We hope to benefit from Locket's expertise in engaging users with intelligent recommendations and creating a beautiful, native mobile experience."
Founded in 2011 by Google and Yahoo alums Peter Szulczewski and Danny Zhang, Wish is the #1 mobile shopping platform in Europe and America. Today, more than 100 million users use Wish mobile apps to browse a worldwide selection of trending fashion, accessories and electronics directly at their fingertips.
—
About Wish
Wish is a San Francisco-based company that recreates the shopping mall experience on mobile devices. With more than 100 million users worldwide, Wish is the world's leading mobile commerce platform. Wish was selected as one of the "Best Apps of 2014" by Google.
Wish on Google Play store: http://wish.com/lp/android
Wish on App store: http://wish.com/lp/ios
Wish website: http://wish.com/lp/web
Wish demo video: https://www.youtube.com/watch?v=3BSkaLY762w
About Locket
Locket is a San Francisco-based company that reimagines the smartphone lock screen. Its flagship app, Locket, delivers relevant content to smartphone lock screens and was selected as one of the "Best Apps of 2014" by Google.