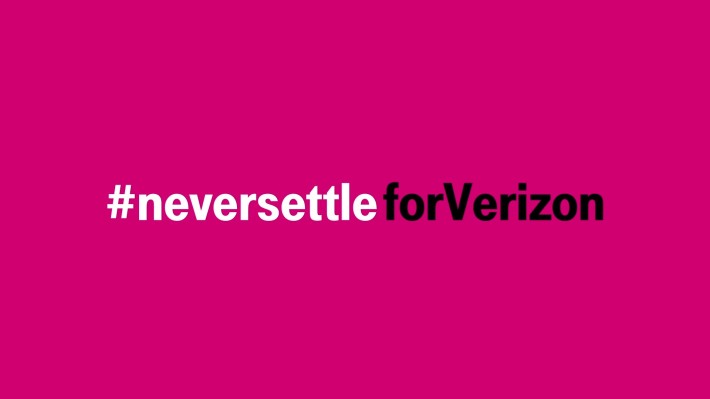 Update, June 3: T-Mobile is expanding the Never Settle for Verizon campaign through June 27. The move was announced by John Legere on Twitter:
There you have it. More time to test the magenta waters, if you're so inclined. We just wonder what OnePlus thinks.
Original post, May 5: One thing T-Mobile is known for is speaking up about the competition — loudly. This tends to go doubly for CEO John Legere. With that in mind, the Uncarrier is once again calling out Verizon with a new campaign that essentially makes fun of Verizon's current "never settle" advertising campaign.
In a set of eight new ads, T-Mobile points out the many advantages the company says it holds over Big Red. Each ad ends with "never settle for Verizon". Moving beyond the ads, T-Mobile is also holding a special "Never Settle" promotion that will be ran from May 13th until May 31st. If you are a Verizon customer, the new promo gives you the chance to sign up for two weeks of T-Mobile service and will be able to walk away without any further obligation to the Uncarrier if you don't like what you see. Obviously you'll need to return any phones T-Mobile gave you, but that's it.
Of course, it is important to note that the trial requires you to first cancel your Verizon service. That means if you don't stick with T-Mobile, you'll either have to start back up with Verizon or move on to another carrier. If you canceled a Verizon contract, you'll also owe Big Red any associated early termination fees. T-Mobile will cover your re-activation fees if you decide to go back to Verizon, however.
For those that stick with uncarrier past the trial period, T-Mobile will cover any early termination fees charged by Verizon. Of course, you will be required to hand in your old Verizon phone as part of the deal. What do you think of this trial? Is it worth switching from Big Red? Let us know what you think in the comments.
Here's all the "Never Settle" ads, for those that want to check them out: