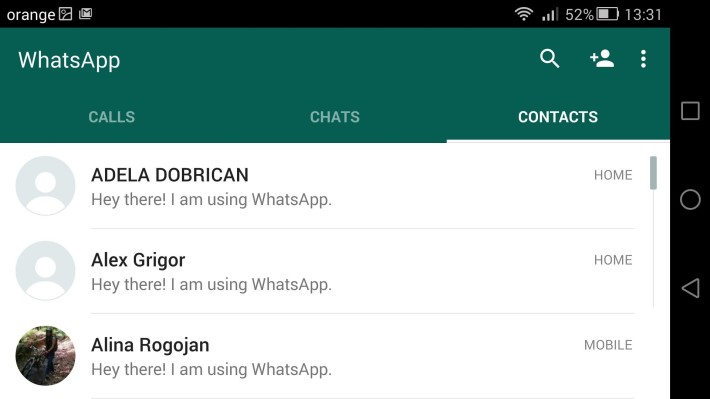 Update, May 14: The Material Design update has now hit the Play Store version of Whatsapp for Android, meaning it will soon rollout to the hundreds of millions of people that use Whatsapp every day. This is the same version that was made available through Whatsapp's website last month.
Original post, April 14:
Following the general rollout of the voice calling feature, WhatsApp is pushing out the second big update in the past three weeks, and this time it's all about appearance. Yes, WhatsApp is finally going Material.
The updated version is currently only available from WhatsApp's site, but the Play Store should get in line pretty soon. If you don't want to wait, updating is as easy as visiting the WhatsApp download site from your phone, downloading the latest APK file, and installing the app (sideloading needs to be enabled from Settings.)
So, what's new here? While the general layout of the user interface remains the same, the new Whatsapp features many Material elements, without going overboard. The new color scheme uses a dark green from the Material palette, and the iconography and typography are now adhering to Google's guidelines.
There are many small animations, with slides and fades spicing up what would otherwise be a rather boring experience. The main bar, which houses the search, action, and overflow buttons now slides away when scrolling down through the list of contacts or recent calls, but the menu bar sticks on. Details like the way notification numbers clear away when you tap them or the way the microphone icon goes to the thrash can when you dismiss a voice mail further add to a fun experience.
Overall, this isn't a major departure from the experience you had before, but the simple implementation of Material does make Whatsapp look more modern and fresh.
Again, you can either wait for the update to hit the Play Store or get your up to date APK file straight from Whatsapp. Let us know your thoughts on the redesign!